How to scale your t shirt business
Don't just start a custom t-shirt business…
Scale and grow one successfully!
If you read our previous article on Starting a t-shirt business, you'd know that the worldwide custom t-shirt market is set to soar beyond $3 billion by 2025. However, to seize your share of this booming t-shirt industry, simply starting a t shirt business isn't enough.
You need to know how to grow your t shirt business, keep the ball rolling and focus on how you will scale.
Why?
Well, simple! Scaling your custom t-shirt business involves:
Keeping up with market demands
Improving efficiency and most importantly,
Increasing profit margins.
Without knowing how to make your t shirt business grow, your business might become stagnant, or worse, start tracking backwards – which is something no one wants.
In this article, we'll run you through the best ways around how to grow your t shirt business and scale your very own Australian custom t-shirt brand through:
T shirt business promotion
T shirt business marketing
T shirt business advertising
Social media for t shirt business
All of these and more will help you with increasing t shirt sales and spreading your unique fashion style far and wide.
Step 1: Define your target audience
Perhaps the most important step when it comes to scaling a custom print t-shirt business is having a clearly defined target audience or niche. In fact, as time goes on, you'll likely find that what your niche is, is far less important than having one in the first place.
Whether it's comic book t shirt designs, sports stars, beach vibes or music related, no matter which style you favour, there will always be someone interested and willing to buy.
Remember, it's all about building customer loyalty for t shirt businesses that counts.
A narrow audience also helps super-focus your market research. With clearly defined customers, suddenly you'll find analysing market trends and making decisions with price or design becomes so much easier.
Ok! So you now know everything about your target audience. But before you reach them, it's time to learn a little more about your own business.
Step 2: Develop a brand identity
Just as you want to know who your potential customers are, they want to know who you are – so it's time to develop a clear and consistent brand identity!
We recommend the following steps:
Create a memorable brand name and logo
The running shoe company, Nike, is the perfect example. With the name derived from the Greek winged Goddess of Victory and the swoosh logo which represents speed and motion, customers feel as though they are dealing with a brand perfect for success on the track.
What will be your brand and logo when it comes to your t shirt business advertising?
Establish a clear tone of voice.
Again, let's look at Nike. Their popular catchphrase, Just Do It, is plastered across all of their marketing collateral, conveying a motivational message of triumph and success.
The key takeaway here is that if you want to separate yourself from being just another t-shirt company you need to scale your identity toward something much bigger and more meaningful.
Again, what will be your key message when it comes to your t shirt business marketing?
Step 3: Build a thorough marketing strategy
Ok, you've established your brand's identity, now it's time to grow your desired audience by building a marketing strategy that captures more customers and scales your business.
In the current market, the most measurable way to scale your clothing brand's marketing strategy is to grow your social media accounts. Social media for t shirt businesses is a powerful tool. As a general rule, a larger social media audience translates to more leads and more sales, so be diligent, consistent and direct!
Another great way to help scale your Australian custom t-shirt business is email marketing. People love checking their inboxes! So with this, you'll be able to connect with your desired audience directly and free from the restraint of algorithms or competitors.
Once you've made these two additions to your t shirt business marketing strategy, it will be time to consider some more direct business promotion tactics, such as paid t shirt business advertising campaigns, to further scale your Australian t-shirt business.
Step 4: Promote your t-shirt business
What do we mean by t shirt business promotion?
In short, this refers to any smaller-scale tactics that you employ to increase the number of sales in your custom t-shirt business.
You see, a young business typically spends most of its attention on gathering leads through a widespread marketing strategy that builds awareness – and rightly so! But when it comes time to determine how to grow your t shirt business, an important thing to consider is what you can do to convert leads into sales, or better yet to keep customers coming back over and over again.
After all, you want them to love your t-shirts.
This is where offering regular promotions and discounts may convince more people to head to the checkout. Perhaps you might even look to build customer retention by offering loyalty rewards and discounts – think Frequent Flyer Points.
Whatever it is, promoting your t shirt business isn't done simply by attracting eyeballs; it's about keeping them by building customer loyalty for your t shirt business.
Step 5: Internal scaling
Now, scaling your Australian t-shirt business isn't just about increasing your leads or your market share. When looking at how to make your t shirt business grow, you also need to focus on internal expansion as well.
This might include:
Expanding your product line: to include a broader array of designs that better capture the varying preferences within your niche audience.

Diversifying t shirt business products: perhaps to include other clothing items or to capture another niche. Again, think back to Nike which started out selling footwear and now offers everything from backpacks to soccer balls and yoga mats.

Exploring t shirt business partnerships: perhaps you want to partner with a sports team, a band or even a celebrity influencer – whatever your niche, expanding your partnership network can be the key to scaling the reach of your business.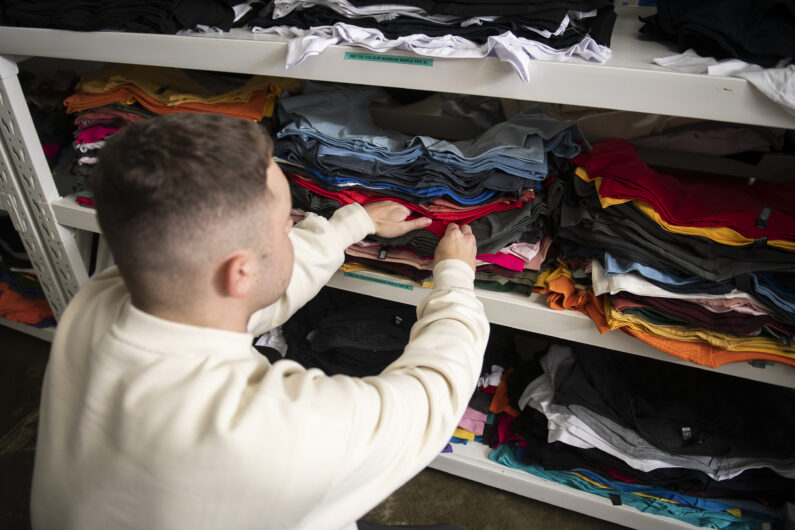 Don't let your custom t shirt business become stale – instead, scale!
When it comes to your Australian custom t-shirt business, to scale is to avoid stagnating or getting suck in the start-up phase.
Whether you look to expand your audience, your market share or your product range, progress in any of these fronts will ensure you remain competitive in a fast-growing industry.
Looking for an all-in-one custom printing solution to scale your custom t-shirt business?
If you have the design, we can turn your t-shirt into an absolute masterpiece! Whether your custom t-shirt business needs a few shirts or thousands – you've definitely landed in the right place!
At PrintLocker we've been providing our customers with uniquely customisable shirts, hoodies, blankets, phone cases and everything in between for years!
All you need is a few minutes and a t-shirt design, and we'll take care of the hard work for you to get your business up and running. Whether you're in Australia or a little further afield, we promise the highest quality t-shirt printing, affordable prices and incredible delivery times.
So what are you waiting for? Partner with us to get your t-shirt business started today!